I like lists. It helps me to feel accomplished. Kind of lame, yup! :) So, this is what I have to get done today:
1. Exercise (harder than it sounds - there has been little motivation lately!)
2. Eat breakfast (I cna't eat breakfast til I exercise cause I can't go as fast if my tummy is full)
3. Wrap gifts for bridal shower
4. Go to a bridal shower at the country club....hub hub hub LOL
5. Come home, and help put on the sidings of all the new cabinets and island. I think the island thing is going to suck cause the panel thing is so heavy and huge
6. Help get the new doors into their places - we have 3 to do today - annoying!
7. Put in the frames for the closets so the dry wall isn't exposed
8. put casing around all of these enclosures and caulk them up to make them nice and pretty
9. Touch up paint everywhere there's a screw - I hate this part the most, I think.
10. Cook dinner. - this is normally a good thing, but on days like this, it's the last thing on my mind, so if I think about it nooooww, I'll know what to cook!
So then, this weeeek, I need to:
1. Head to the library and get my new books
2. Call up the Dr. and make sure I'm current on all shots for leaving to Mexico for 2 months
3. Get the rest of the baseboards in place so we can actually have people over! (hopefully it's here this week - they were back ordered)
This month has way too many things to list. I think I'll just keep with today's list and see how it runs.
Oh, I also knitted a trial run teddy bear this past week during conference (well, 3 of the 4 sessions). I got yarn to make a for real one yesterday, so I think I'll make that tomorrow after church. The pattern I have makes a really cute bear, but he's only about 6-7" tall. I'm contemplating doubling up the pattern to make it twice as big. .....I'm not sure if I want that kind of commitment though :/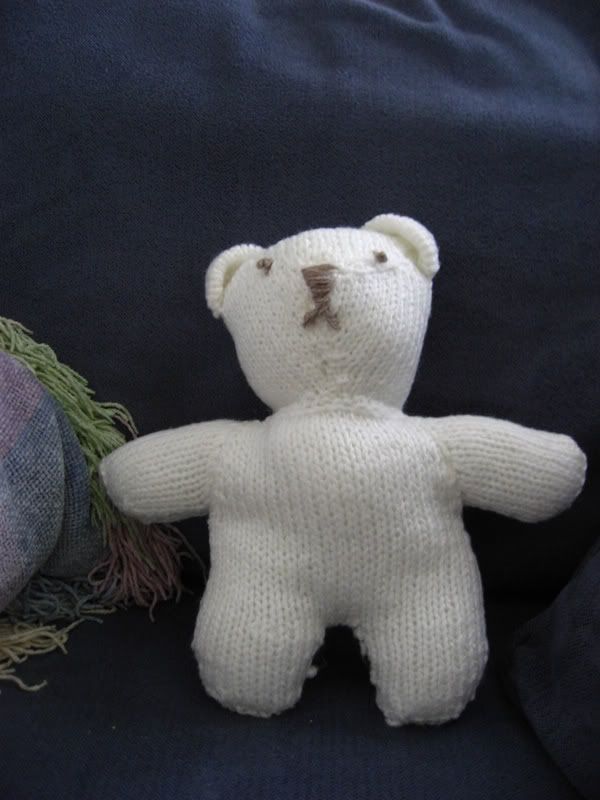 This is my lame attempt - it's white cause that's all I had when the power went out, and the nose and eyes aren't out of the right kind of thread. I just wanted to make sure I could do it. It's also supposed to have a bow - I didn't have any bows! :)